Let Us Help You Find Your Dream Home
Please fill out the form below so we know what you're looking for and we'll monitor new listings as they come on the market and alert you when we see properties that match your specific criteria.We help in seeing you through the whole process of new Home buying. Make sure you leave your information with us below.
New Community of Yorkville- Opening soon!
Yorkville South West Calgary.
Mattamy Homes is planning to build 4,000 housing units with a variety of home styles. There will be an even split of detached homes and multi-family developments with prices from $500,000 to $700,000 for single-family homes and condos/townhomes/duplexes prices expected between $200,000 to low $400,000 prices. School sites are included in the preliminary plans along with two storm water ponds and pathways.
This master-planned South West neighbourhood, says Mattamy's spokesman will be different from the company's other offerings in Southern Alberta. Fresh new designs and original floor plans have been developed as a result of extensive research and customer feedback.
The two phases planned for Yorkville; include Phase One- The retail development of the Yorkville community; and will take place with Ronmor Developments Inc., a local developer working in partnership with Mattamy, and to include incorporate some residential areas. This phase will encompass about 300 lots with possession dates early in 2018. The other 65 hectares of Yorkville will be constructed at the discretion of Mattamy.
A final community of Yorkville will have a capacity for a population of 12,000 people; and expected to take place over a period of ten years. Yorkviille will compare in size and scope to the Cityscape neighbourhood, currently under construction in the Calgary's north east.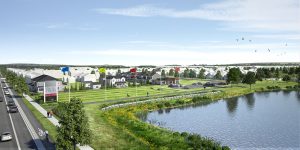 Mattamy is also presently offering homes in the north-west quadrant of Calgary's Carrington community. Yorkville will be Mattamy's third offering within Calgary city limits. The developer and home builder has been active in Southern Alberta since 2009.
Neighborhoods by Quadrant